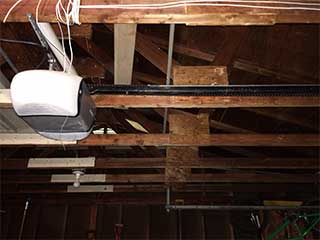 If your door opener isn't working correctly, our experts can help you troubleshoot the problem and complete any repairs as necessary. If it turns out you need a new opener, we will let you know what the issue is and look after the new opener installation process from start to finish.
Choosing the Right Opener
Not all garage door openers will work correctly on every door. We will ensure you choose the right one for the weight and size of your unique door and ensure the load is distributed properly so that it operates smoothly.
The Right Tools
The correct tools are needed when installing or repairing garage door openers. Not having the right tools to hand can make these tasks a nightmare. We come equipped with everything needed to complete our work so there is one less thing you need to worry about.
Correct Wiring Matters
Working with electricity is dangerous. When installing or repairing new garage door openers, it's important that the wiring is done correctly so that the unit works the way that it should and keeps the risk of electrical fire to a minimum. We are careful with all of our electrical work and always double check to make sure that it has been done correctly.
Safety Mechanism Testing
We provide a range of routine maintenance services for door openers – prevention is always better than dealing with larger problems down the line. It's important to ensure that your opener safety sensors are correctly aligned - misalignment can mean that obstacles are not detected, causing your door to close unexpectedly even when there is something in the way. We can check your opener for any safety issues. If we find any problems, we'll do our best to fix them for you there and then.
Our Expertise Counts
When installing or repairing your opener, we rely on years of experience to ensure that the job is done correctly from the start. Whether you're in need of maintenance, installation or repair services, call us. Our experts at Garage Door Repair Acworth are here to help.
You can also count on us for:
Garage Door Safety Inspections
Genie & Liftmaster Opener Repairs
Emergency Broken Spring Replacement
Garage Door Off Track Repair